How green is your packaging?
'Green' packaging....... what does it really mean?
Do you really understand the true environmental impact of your packaging? It can be very confusing. There's lots of contradictory information out there about packaging and packaging materials. What does 'recyclable' mean? How do you measure packaging efficiency? What's the carbon footprint of your packaging?
Well, to be honest, there is no simple single answer to any of these questions. What you need is clear, understandable information that will allow you to make informed choices when designing your packaging. This will help you assess its impacts and justify the design decisions you make. Packaging delivers many functions and therefore it needs to be 'effective' in functional, aesthetic and environmental terms.
Eco3 has been helping companies make the right packaging decisions for many years and has worked with lots of companies including Diageo, Next, B&Q, Mars, Northern Foods, Cert Brands, Microsoft and Symantec.
During this time we've gained considerable skills and experience in this field and have developed a number of new and innovative ways of assessing packaging 'effectiveness' in environmental terms.
All these data, skills and experience are being embodied in a new and exciting packaging design environmental assessment tool. The tool is web-based and allows the comparison of a number of alternative packaging designs/concepts. It delivers qualitative and quantitative results that cover issues such as recycled content, recyclability, carbon footprint, weight and volumetric efficiency, transport and disposal impacts. It equips packaging designers and technologists with easy to understand information allowing informed choices to be made, explained and justified.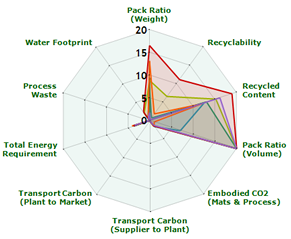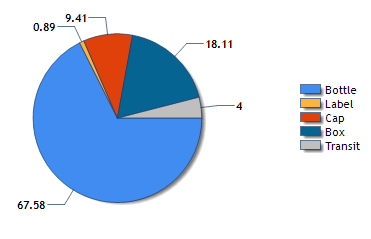 We are planning on launching this tool in June of 2011. For information and updates on the development of the tool please use the email link below and we'll keep you informed of progress.
If you want to discuss the possibility of the development of a bespoke tool for use within your organisations or have any other questions, please drop us a line at howgreen@eco3.co.uk